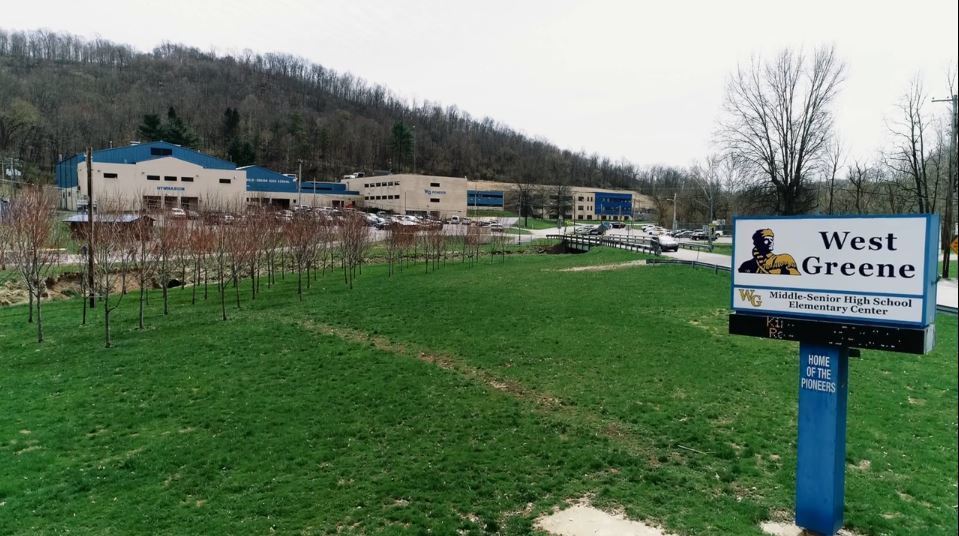 WGSD makes an impact on their community to address food insecurity
Jed Hamberger
Wednesday, May 08, 2019
See Highlight Video Here
https://vimeo.com/333823833?mc_cid=b879d2e15c&mc_eid=b31858f414
The Chevron Center for Corporate Social Responsibility (CSR Center) at Waynesburg University recently held its inaugural corporate volunteer event during the celebration of National Volunteer Week. Nearly 70 volunteers from 12 member companies participated in 11 projects at four sites.
Our goal was to focus on one singular issue in our community and build meaningful projects with the appropriate partners to address that issue."
STACEY BRODAK, VICE PRESIDENT FOR INSTITUTIONAL ADVANCEMENT AND UNIVERSITY RELATIONS
Companies that supplied volunteers included 84 Lumber, Bowles Rice LLP, Chevron, CONSOL Energy, EQT Corporation, First Federal of Greene County, Mackin Engineering, Range Resources, Stanley Black & Decker, Steptoe & Johnson PLLC, TechnipFMC and Tenaris.
Projects at the food banks ranged from sorting and packing pantry orders to prepping the garden beds for planting season. At the Greater Washington County Food Bank, volunteers assisted with the construction of a new greenhouse and preparatory work for a new hydroponics area.
At the schools, volunteers worked alongside students in the construction community pantry boxes. Similar to the concept of a Free Little Library, completed pantry boxes will be strategically placed throughout the McGuffey and West Greene school district communities to help those in need have 24/7 access to food, hygiene items and cleaning products.
Aside from the volunteer projects, eight offices held pantry drives, collecting items such as boxed foods, condiments, breakfast foods, snacks, beverages, canned foods, hygiene products and cleaning products. The donated items were split among the four partner agencies.
Offices that participated included Bowles Bowles Rice LLP, First Federal of Greene County, Mackin Engineering, Stanley Black & Decker, Steptoe & Johnson PLLC, TechnipFMC, Tenaris and Waynesburg University.
Three companies – Bowles Rice LLP, Community Bank and Mackin Engineering – contributed $500 each, which helped the CSR Center present a $500 surprise donation to each partner organization.
Other organizations that provided financial assistance, discounted materials or donated equipment were 84 Lumber, Chevron, EQT Corporation, Stanley Black & Decker and the Center for Service Leadership at Waynesburg University.
The CSR Center launched in the fall of 2018, and since then, has grown to 17 members. The purpose of the CSR Center is to bring together business leaders in the region to enhance their strategic CSR programs, ultimately working together to grow our community.
The first-of-its-kind center was made possible by a $250,000 commitment from Chevron.
West Greene received a donation of $500 as well as supplies to stock the pantry projects from the corporate food drives. None of this would have been possible without the help of Stacy Brodack and the Chevron Center for Corporate Social Responsibility. West Greene was the first school district to reach out to Mrs. Brodack and the Center for Corporate Social Responsibility to setup the partnership and things have only expanded from there. We have partnered with Waynesburg University's Environmental Science Department to work on community based projects on the trail system and share greenhouse space at the West Greene School District for research based projects for Waynesburg University students and West Greene students.