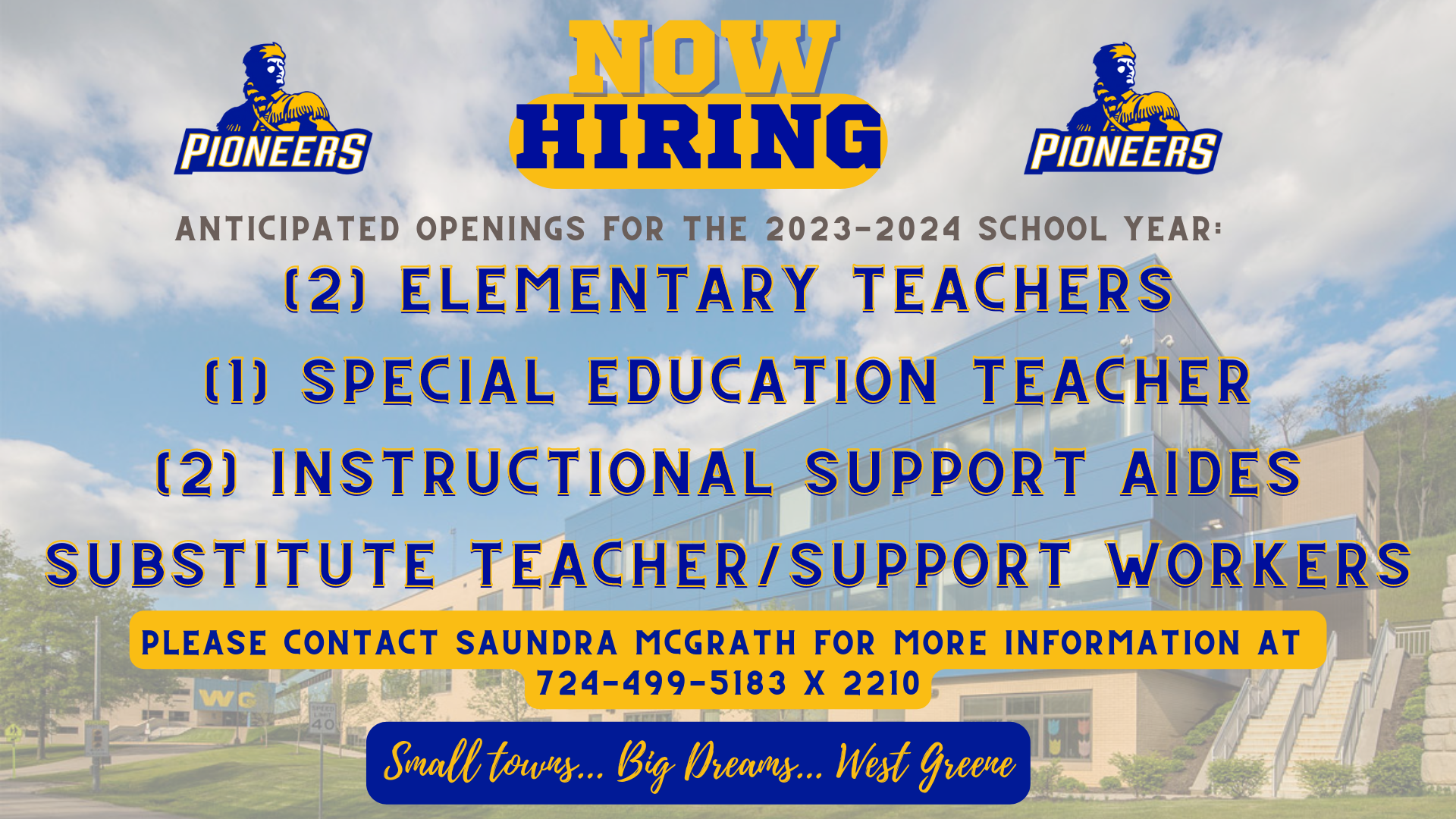 (2) ELEMENTARY TEACHERS / (1) SPECIAL EDUCATION TEACHER
Location: West Greene School District
QUALIFICATIONS:
Appropriate PA teacher certification.

AP and/or IB training or the willingness to obtain AP and/or IB certification

BA is required in an appropriate major study. Masters preferred.

Strong motivational, communication, and organizational skills.

Ability to work effectively with a team of adults.

Willingness to participate in shared decision-making, using styles of consensus, and collaborative decision-making.

Ability to effectively communicate with, instruct, and work with students and parents.

Mastery of special styles of pedagogy (ex. cooperative learning, learning styles, and multiple intelligences.

Such alternatives to the above qualifications as the Board may find acceptable and appropriate.
JOB GOAL:
The job goal of a teacher is to provide high-quality education to their students and help them achieve academic success. Teachers are responsible for creating a safe and inclusive learning environment that promotes students' intellectual, social, and emotional development. They must plan and deliver engaging lessons that challenge and inspire their students to reach their full potential. Teachers also serve as role models for their students and must demonstrate professionalism, integrity, and a commitment to lifelong learning. Ultimately, the goal of a teacher is to prepare students for success in school and beyond, by providing them with the knowledge, skills, and values they need to become responsible and productive members of society.
ESSENTIAL FUNCTIONS:
Planning and delivering lessons: An elementary teacher is responsible for creating and delivering lesson plans that are appropriate for their students' grade level and skill level. They must be able to effectively communicate concepts and engage students in the learning process.

Assessing student progress: Teachers must regularly assess student progress to ensure that students are meeting academic goals and identify areas where additional support may be needed.

Creating a positive classroom environment: Teachers play a critical role in creating a positive and inclusive classroom environment that promotes learning and supports student well-being.

Building relationships with students: Teachers must develop positive relationships with their students to create a supportive and nurturing learning environment. This involves taking the time to get to know each student individually and understanding their strengths, needs, and interests.

Communicating with parents and colleagues: Effective communication with parents and colleagues is essential for ensuring that students receive the support they need to succeed in school. Teachers must be able to communicate clearly and professionally with parents and collaborate with colleagues to ensure that all students receive the support they need.

Professional development: Teachers must engage in ongoing professional development to stay up-to-date with the latest teaching methods, technologies, and trends in education. This helps them to continuously improve their teaching practice and better meet the needs of their students.
MARGINAL FUNCTIONS:
Supervise corridors, cafeteria, etc.

Assist in emergency situations.

Curriculum review work.

Professional Learning Community participation.
Location: West Greene School District
Description
Petermann Bus is actively searching for qualified and quality employees who are at least 21 years of age and can meet our stringent criteria, which includes an extensive interview process, background checks and drug testing.
We offer a competitive wage package, part-time morning and afternoon hours along with training and development.
If you are interested, please fill out an application online at http://www.nellc.com. Look under "careers" and look for our terminal which is CSC 6421 –West Greene location. If you have any problems trying to fill out the request, please call 724-499-5004.
Thank you and we look forward to hearing from you.
Contact Kathy Flowers
Phone: (724) 499-5004
kflowers@petermannbus.com
Waynesburg, PA 15370
Anyone with a Bachelor's Degree interested in substitute teaching should contact the District Office at 724-499-5183 ext. 2210
Substitute Instructional Aides

Substitute Nurses

Emergency Substitute Teachers

Substitute Teachers

Sub Custodians *
* Questions and information regarding the position of Sub Custodian can be directed to the Facilities Department at - 724-499-5183 ext. 2240
Application Packets can be picked up in the District Office.
Links for Clearances can be found further down on this page. Please call Saundra McGrath with questions – 724-499-5183 ext. 2210
EOE