GET TO KNOW YOUR PRINCIPAL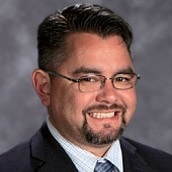 Welcome! My name is Scott Sakai. As Principal, I offer experience and knowledge in a variety of levels and subjects throughout my career. I also offer a broad educational background. I am a graduate of Bishop Canevin Catholic High School; I am a graduate of Waynesburg University with a Bachelor of Arts in Elementary Education and a Master of Education in Instructional Technology. I completed the Principal K-12 Certification program as well as the Superintendent Letter of Eligibility Program at California University of Pennsylvania.
I started my professional teaching career in 2000 as a substitute teacher in Greene County. I was fortunate to do most of my work for the West Greene School District. I was hired as a full time teacher with the Central Greene School District in 2001. I remained a 6th grade Mathematics and English teacher for eight years at Margaret Bell Middle School before getting hired at West Greene Middle-Senior High School.
At West Greene I was hired as the Assistant Middle-Senior High School Principal in August 2010. I then took over as the Middle-Senior High School Principal in September 2010. During my tenure with the West Greene School district my primary responsibilities are to confer with parents and staff to discuss educational activities, policies, and student behavioral or learning problems. Observe teaching methods and examine learning materials to evaluate and standardize curricula and teaching techniques, and to determine areas where improvement is needed. Evaluate curricula, teaching methods, and programs to determine their effectiveness, efficiency, and utilization, and to ensure that school activities comply with federal, state, and local regulations. Enforce discipline and attendance rules for students from 6th to 12th grade. Plan and lead professional development activities for teachers, administrators, and support staff.
As a graduate student I did my Superintendent internship with Mrs. Thelma Szarell at the West Greene School District. Through this experience I developed, articulated and implemented a school vision of learning supported by a school community. Promoted a positive school culture, provided an effective instructional program, applied best practices to student learning, and designed comprehensive professional growth plans to staff. I was able to manage the organization, operation, and resources in a way that promotes a safe, efficient, and effective learning environment. I collaborated with families and other community members, responding to diverse community interests and needs, and mobilizing community resources. I acted with integrity, fairness and in an ethical manner.
I am looking forward to sharing information with you about West Greene Middle-Senior High School through this web page. The administration, faculty, and staff at the Middle-Senior High School want to provide the best education possible to each of our students, and to do so, it is vital that we maintain an open line of communication with our students, parents and residents of the West Greene School District.
Thank you,
Scott G. Sakai