The school calendar has been updated with weather make up days. School will now be in session on the following dates; Friday, March 8th, Monday, April 22nd and Tuesday, April 23rd. For the complete school calendar please select "Menu" from the upper left corner of the home page and then select "District".
The site, opponent, and time has been "OFFICIALLY" released by the PIAA for our girls basketball state playoff game. We will play Kennedy Catholic, this Saturday, March 9. The game will be played AT Canon-MacMillan HS, and start time will be 3:00. Since it is a Saturday game, I will have the bus departure set for 12:45. Parents/Boosters can organize any type of send off, based on that time frame. Pre-sale tickets will be available all week long at the main office (thru Stacy). For the state playoffs, ticket prices are $6.00 for adults, and $3.00 for students. Please pass along that our pre-sale "index" helps us with our state reimbursement formula, so anyone knowing for sure they are attending, please try and purchase at the school!!!!!!!

WGEC Receives EQT STEM Grant - Please refer to the news tab to read the complete article.
Pioneer Nation. There will be a Fan Bus heading to the Petersen Events Center for the WPIAL Girls Basketball Championship Game Friday March 1, 2019. Interested individuals need to have a Pre-Sale Ticket purchased In order to ride the Fan Bus. Bus will depart from the Junior-Senior High School at 12:30 pm on Friday. Let's pack the Pete!

ONE CALL NOTIFICATION: If you are not receiving calls to notify you of cancellations, delays or early dismissals, please contact the school office to verify that we have the correct contact numbers on file. Our One Call system can only contact two phone numbers per student.

This message is to remind all parents and students that there is a make up day scheduled for Monday, February 18th. There will be an additional make up day on Friday, March 8th.

WGSD is dismissing all students at approximately 12:00 due to landslides and flooding. Please be patient, some buses may experience delays. All PM activities scheduled for this evening are cancelled.

All after school activities scheduled for this evening are cancelled.

Early Dismissal - WG will be dismissing at approximately 1:50 this afternoon because of flooding in some areas.

Make-Up Day - School will be in session on Monday, February 18th (President's Day) due to cancellations in late January.
West Greene's Peer Mentoring Advisory Team joins with other Pennsylvanians to advocate Congress on behalf of the impact of mentoring. Representing WG are Tim Barnes, Melissa Ullom, Karlie Wright, and Jed Hamberger.

Parents, please be vigilant in turning in excuses for student absences. Students with 3 or more unexcused absences are in violation of school attendance requirements. Parents will be required to attend a School Attendance Improvement Plan meeting if this occurs. Thank you for turning in your excuses!

Elementary Parent Training Opportunity: I am inviting parents of elementary students to attend a parent training on April 3rd, 2019 at Lakeside Party Center in Uniontown. The training will run from 9:00 AM-1:30 PM and is no cost to parents of students at WGEC. Lunch will be provided and space is limited. If you would like to attend or need additional information, please phone me at 724-499-5183 or e-mail me at
painterd@wgsd.org
It's National Mentoring Month celebrate your mentors with us at West Greene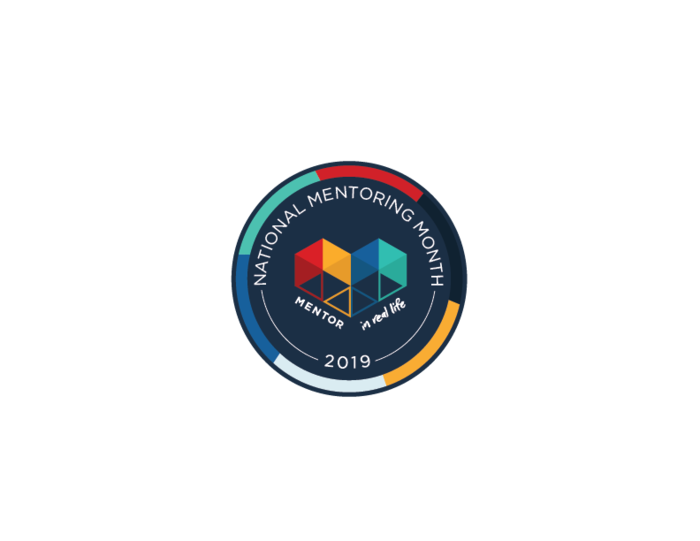 THANK YOU WGEPO! A big thank you goes out to the WGEPO and parent volunteers for making last week's Santa Workshop and the Book Fair a huge success for the WGEC students.

EARLY DISMISSAL-There will be a 2 and a half hour early dismissal on Thursday, December 20th. Dismissal and parent pick-up will begin at 12:35. Buses will depart campus at approximately 12:50. Happy Holidays!
FFA Fruit Sale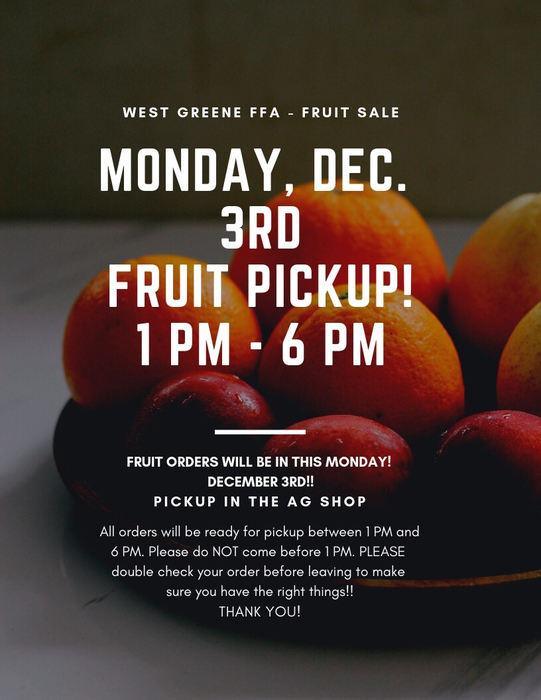 West Greene will be operating on a two hour delay Wednesday November 28, 2018

West Greene will be operating on a Two Hour Delay Tuesday November 27, 2018.